Arch Cape Repeater visit June 12, 2010



After attemting to reach the repeater on June 3 and finding the route blocked by rocks I learned that there was an alternate route that would link back with the road up to the repeater. The weather on Saturday, June 12 was great so 4 of us from Arch Cape (Tim Crawford, KE7TAC, Helen Chauncey, KE7SCS, Mary Jo Mosby, KB7NJE, Dale Mosby, K7FW) decided to make a return trip to figure out the alternate route when we could devote time to any reqired backtracking.

We found the batteries in pretty good shape. Specific gravity was 1.238 when adjusted for temperature (unadjusted was 1.250). Very little water had to be added to the cells. The day was bright and sunny and two of the panels were in full sun when we were there. Battery voltage was showing 13.2 volts. The 4 batteries have a manufacture date stamp of 7/07 and a note stating they were installed October 2007.

The bad news is that the two lower hinges on the door were corroded such that they did not want to move. This, combined with the use of very short screws holding the hinges to the door frame meant that when we tried to close the door the hinges pulled loose from the door frame. Tim had a small tool with a phillips screwdriver so we were able to replace the screws and with much effort get the door closed. It was very dfficult to get the door closed as the hinges absolutely did not want to move. Maintence note: lubricate the hinges on every vist!

We also found that the metal skin on the door is pulling loose on the inside and it appears that the core material inside the door is coming out. There is a pile of material along the base of the building that seems to be coming from inside the door.

A summer task needs to be door replacement. I think on the next trip up the hinges should be replaced and much longer screws used. Measurements need to be taken in order to replace the door.

Checking the battery specific gravity.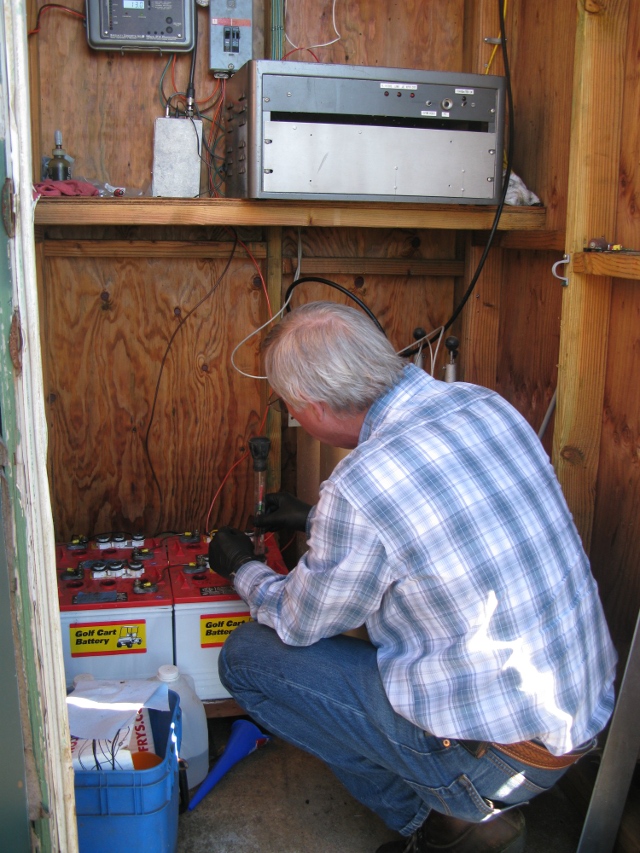 Interior view of the repeater building.




Some sort of discussion taking place.
Left to right: Dale K7FW, Tim KE7TAC, Helen KE7SCS. Mary Jo behind the camera.



Tim holding the door, supported at that pont by the top hing only and the two lower
hinges immobile such that the door does not want to close.


Close up view of the door.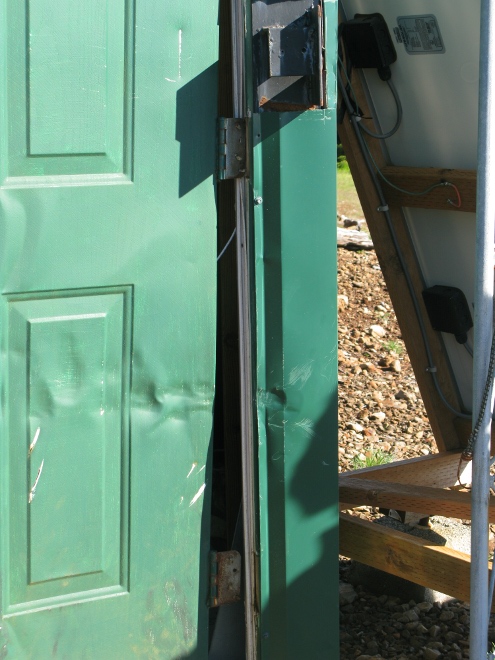 View from the repeater site looking down to Arch Cape. Castle rock visible offshore.



A small falls on a stream crossing on the way up to the repeater site.

Back to Arch Cape repeater page.