2014 Motorcycle Trip - Oregon, Nevada, California



Trip Report Summary

I made an eight day motorcycle trip July 15 through July 22, 2014. Seven of the days were riding with one non-riding activity day. The trip covered 1943 miles in Oregon, Nevada, and California. That works out to 277 miles on average each riding day. I rode two days from the Portland, Oregon to Carson City, Nevada making a swing by Crater Lake on the way down. A couple days were spent exploring the beautiful roads in the area followed by a 3 day ride back to Portland. The ride back had a run to the California coast allowing me to ride Highway 36 in California, known for the sign advising 140 miles of curves ahead.
Ride Days

Tuesday, July 15 - Portland, Oregon to Klamath Falls, Oregon. 332 miles
Wednesday, July 16 - Klamath Falls, Oregon to Carson City, Nevada. 307 miles
Friday, July 18 - Highway 88 and 4 loop in California. 266 miles
Saturday, July 19 - Lake Tahoe loop and Virginia City. 155 miles
Sunday, July 20 - Carson City, Nevada to Red Bluff, California. 269 miles
Monday, July 21 - Red Bluff, California to Grants Pass, Oregon via CA coast. 343 miles
Tuesday, July 22 - Grants Pass, Oregon to Portland, Oregon. 271 miles



Tuesday, July 15


I started the trip in Hillsboro, Oregon, a suburb a little to the west of Portland. I took I-5 south to Eugene then got off the interstate heading southeast on Highway 58. This took me through the town of Oakridge where I had a lunch stop and then by Odell Lake. This route had me traveling through some nice country and much nicer riding than continuing south on the freeway.

I connected with Highway 97 and had a short ride south before heading east on 138 taking me to Crater Lake National Park. I rode Rim Drive on the west side of the lake and then continued south hitting Highway 62, Crater Lake Highway.

The temperature was hot - really hot. Not bad as long as I kept moving but unfortunately I encountered two spots with road construction. The first was up high near the lake with only a brief stop for traffic and fortunately I was able to stop in some shade. But the next traffic stop was lower with a 30 minute wait in the hot sun. There were many miles of fresh gravel on a very long chip seal stretch. Traffic had to wait for a pilot car to show up and take accumulated traffic through - for no good reason that I could see as no work was taking place on the road just some work on a side road.

Once past that the rest of 62 was a great ride back to the connection with 97 though even with some moving air once again it was hard to recover from the intense baking under the sun during the construction delay.

I continued south on 97 into Klamath falls. I did not have a room booked in advance and found the first hotel full. I got a recommendation for another place and found a room for the night - fortunately within walking distance of a dinner spot.
| | |
| --- | --- |
| | This shows the second part of the day's ride. I was wearing full gear well suited to the cooler temperatures of the Oregon coast. Even though it was hot the 7000 foot elevation of the Crater Lake rim road made things reasonably comfortable until I got lower and hit road construction. |
Some photos from Tuesday's ride. Click on a photo to open a larger image. This is the west side of Crater Lake. Wizard Island easily seen under the clear sky this day.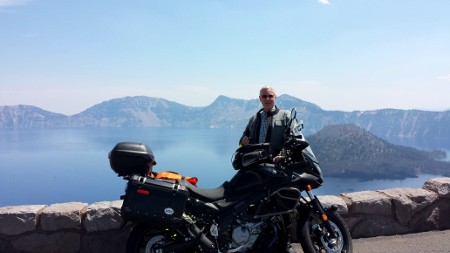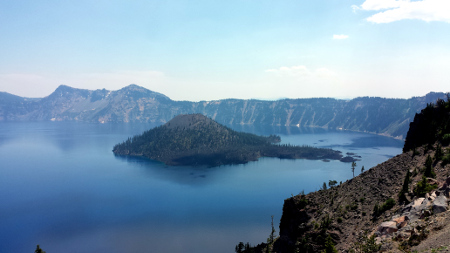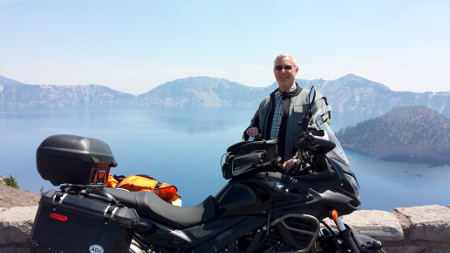 I got a reasonably early start out of Klamath Falls heading south on Highway 39. That jogs east on 50 and then south on 139 into California. The weather was perfect and so was the road - two lanes through beautiful scenery and no traffic.

Highway 199 links up with 299 and for a while they merge into one road with two designations. Eventually they split with 299 heading west. I remained on Highway 199 into Susanville with the temperature rapidly rising as the day progressed.

At Susanville the road turns into Highway 395 continuing south. I remained on 395 all the way to Jim and Laura's house.

I went through Reno and discovered that my GPS was in some mode in which it wanted to avoid highways. So when I say "through Reno" I mean right through the middle of town rather than bypassing the city on 395. I actually pulled over on 395 once outside Reno and checked all the GPS settings but could not resolve this. A later Internet search found that a full reset can sometimes resolve this problem. I did that and will be loading updated maps and firmware soon.

Jim and Laura live between Carson City and Minden. I arrived at their house mid-afternoon. It was hot so their air conditioning provided welcome comfort (as did that cold beer - thanks).
Thursday I did not do any riding. Jim and I did a bit of desert exploring. We also did some bike maintenance that day.
I had replaced the stock mirrors with Doubletake Mirrors. I really like them as they are infinitely adjustable and give great rear view sight on both sides of the bike. These use a "ram mount" ball style mount. This works great on a smooth road and up to about 65 MPH. But at high speed or on a rough road the mirrors would slowly move back which of course would make the view incorrect. The mounts have a metal "clamshell" that clamps around a round plastic ball - a standard RAM mount. The problem was that with really strong headwind due to high speed or if a lot of vibration the mirrors would move. We took a center punch and made a grid of 9 small indents in each half of the inside of this curved metal clamp. I also took some very fine sand paper and lightly sanded the plastic ball to remove the slick surface. This did the trick and the mirrors worked perfectly for the remainder of the trip no matter what the speed or how rough the road.
The other bit of maintenance that was needed involved my auxiliary lights. I mounted some LED lights down on the front forks utilizing a fender mount. The lights came with a mounting kit that was a bag of parts designed to fit a number of bikes. My fenders are a fiberglass material and had used a hex screw with a very large diameter head to spread the clamping pressure over a large area. The post used to mount the lights was a smaller diameter and allowed very slight vibrations of the light to slowly wear away fender material. I noticed this as when riding through Reno I could hear noise from my front fender moving a bit when I would cross bumps at low speed. Jim and I did some shopping at a hardware store and were able to change the mounting method to get a large washer holding the fender in place. This seems to have solved the problem.


Jim recommend this route taking me west on Highway 88 through the Eldorado National Forest and then returning east on Highway 4 through the Stanislaus National Forest. Click the map to the left for a larger image.


Both roads have pretty good elevation so the temperature was not too bad. I got fuel just north of Jackson on highway 49 and then headed south to make my return trip. That area was warm but traffic was light and the day very nice.

Highway 4 was quite amazing. Trailers are not allowed and there is a limit to vehicle length.
This stretch of Highway 4 turned out to be great fun, definitely the most exciting road of the trip. The road has mile after mile of very tight turns and some very steep drops as well. The V-Strom is a nimble bike and handled the twists of this road like a champ. I had never been on any road like this (not with a car or bike) and after completing the ride felt that I could now handle any road I might encounter.
| | |
| --- | --- |
| | I was creating a track using my phone and the Google map "my tracks" feature. When looking at the map I saw this interesting "glitch" to the west of Topaz on highway 4. |
| | Expanding the map revealed one of the more steep and twisty spots in the road. When I saw the expanded view I recalled exactly where this was - some of the steepest drops on the road with very sharp turns waiting at the bottom. This was definitely a road to run west to east for maximum excitement. |
Some photos from Friday's ride. Click on photos to open a larger image.
| | |
| --- | --- |
| | This is Sorensen's resort. It can be found on Highway 88 not too far from South Lake Tahoe. Jim recommended this as a breakfast stop. What a great idea. The breakfast was great and the setting was beautiful. You can eat indoors or out. |
| | This is an all winter resort with activities for all seasons. I hope to return and spend a couple days relaxing here. |
| | |
| --- | --- |
| | This is a stretch of Highway 88. There was very little traffic and great riding weather. |
| | |
| --- | --- |
| | A stop at Red Lake Vista Point on Highway 88. |
| | |
| --- | --- |
| | Another view along Highway 88. |
| | |
| --- | --- |
| | I would think that the name "Mosquito Lake" would serve as notice that this is not a great place to be but there is a camp ground here and people at the lake. This is on Highway 4. |
| | |
| --- | --- |
| | Highway 4 heading down toward Topaz Lake. A clear road and no traffic, lots of curves. A bit after this the afternoon clouds began to gather and I did ride through just a few drops of rain. Fortunately that did not last long and I was back and Jim and Laura's place before the typical late afternoon showers started. |


After the very technical ride of Friday I thought I would have an "easy" day of a ride around Lake Tahoe, then through Virginia City and back to home base. While the distance made this the shortest day of the trip the heat and slow traffic around the lake did not make the day seem easy.

I headed south on Highway 88 initially retracing some of the previous day's route. Jim recommended breakfast at the Getaway Cafe on highway 50 leading up to Lake Tahoe. The weather was nice and I was able to enjoy my breakfast at an outdoor table. This is a popular place and I was fortunate to not have a long wait.

After breakfast I continued north connecting with Highway 89 on the west side of the lake. It was very hot and the Saturday summer traffic around the lake really slow. There are lots of small towns around the lake and traffic through them is slow so I was very hot by the time I reached Incline Village on the north side of the lake. There I was able to get on the Mount Rose Highway and enjoy some fantastic twists and turns as the road descends down to the valley floor (if you can call 5000 foot elevation a "floor").

I crossed Highway 395 and then began the climb up Geiger Grade Road (Highway 341). Despite gaining elevation the temperature was rising as the day progressed and I saw the air temperature gauge on the bike cross past 100 degrees. The high I saw this day was 105 degrees (that's 40 C for those of you not in the USA).

On the descent of Geiger Grade Road I passed through Virginia City, Nevada. The town was full, I did not see a single empty parking spot on the main street that runs through the town. I did not intend to stop as by now I was hot and ready to finish up my day. I had to pack up everything and start my journey back to home the next morning.
| | |
| --- | --- |
| | The bike air temperature gauge showing 101 degrees as I climbed Geiger Grade Road. |
| | A lookout point on Geiger Grade Road. |


I started out Sunday with a short ride south into Minden so that I could join Jim and Don for breakfast. I had heard Jim speak of Don and enjoyed meeting him. I backed track north on 395 and then headed west on Highway 50 climbing up to the Tahoe rim. I rode around the north end of Lake Tahoe back to Incline Village and at Kings Beach got on Highway 267 heading northwest and leaving Lake Tahoe. Fortunately being early Sunday morning the traffic at the lake was not yet too heavy.

The road turns into Highway 89 once you cross over Interstate 80. I went through a couple very brief rain showers. Just a few minutes of rain and with the warm temperature the moisture evaporated quickly. The road eventually merges with Highway 70 following streams for much of the ride.

Highway 70 spits off heading west with 89 heading north to Lake Almanor. The town of Chester by the lake is the only spot for fuel for about 60 miles more so I stopped there to get fuel and also enjoyed a milk shake. After leaving Chester Highway 36 leads west to Red Bluff.


This was the longest ride of the trip - 343 miles. After having some great rides and also some really slow traffic around Lake Tahoe I did not feel like dealing with the slow traffic up Highway 101 on the Oregon coast so I opted to take I-5 north. Even though this day started on I-5 I wanted to ride Highway 36 from Red Bluff to the California coast - 140 miles of curves!

Highway 36 heads east out of Red Bluff with the well known (to motorcyclists at least) sign showing 140 miles of curves. I made a stop to take a picture of my bike with that sign. And then it was west on Highway 36 enjoying all those curves. There is not much traffic on this road and what few cars I encountered immediately pulled over for me when I came up behind them. I was not driving fast by any means, but the cars on the road seemed to understand that a bike could easily proceed faster than them. So a big thanks to those courteous drivers that let me past. For an expanded look at the map showing a section of the highway 36 curves click here.

Highway 36 intersects with Highway 101 near Fortuna. From there I headed north to Crescent City and took Highway 199 back through the mountains to Grants Pass.
Some photos from Monday's ride. Click on photos to open a larger image.
| | |
| --- | --- |
| | Just outside Red Bluff as Highway 36 starts the journey west. I'm sure every motorcyclist feels compelled to stop and get a photo. |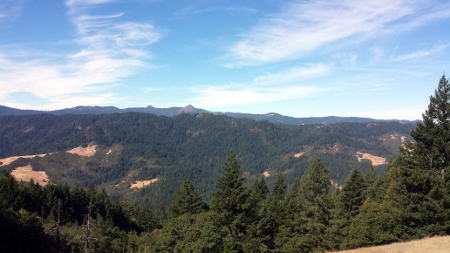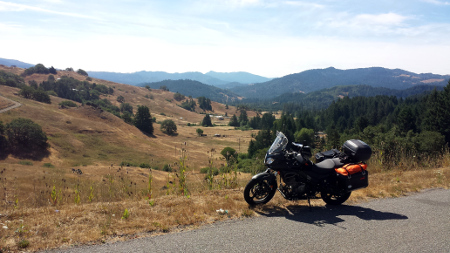 When planning the trip I considered a return route taking me up the Oregon coast. After experiencing the traffic around Lake Tahoe I felt as if I had encountered enough slow traffic for a while and did not think all the congestion one finds in the small Oregon coast towns was going to be much fun. I do a fair amount of riding on the coast on day trips and have this area available most any time. That led to a route change using Interstate 5 as a return route.

I spent Monday night in Grants Pass after 343 miles of riding, much of that on twisty roads. I was quite tired by the time I made the stop. The next morning I saw signs of recent rain as I headed north and the sky was overcast. A call to my wife indicated rain in the Portland area. The sky cleared as I headed north and I arrived in Portland to find clear skies.
Summary
This was a great trip! The weather was good - morning riding really fantastic though a bit hot later in the day on most days. Jim tells me that there was very heavy rain later the day I left Nevada so I had good timing on that exit. And on my last morning in Grants Pass I could see that it had rained during the night as I was riding north so again my timing was good to avoid that rain. There are some wonderful motorcycle roads in southern Oregon, northern Nevada, and northern California. I feel fortunate to have had so many days available to explore those roads.
The bike was a 2012 Suzuki V-Strom 650. The bike performed flawlessly. This is the adventure model with factory side cases and factory top case. I strapped a small water proof bag to one side case to provide a little more room to pack clothes. I had some tools and emergency gear with me as well as the rain liners for my riding clothes. I never needed any of that but it was good to have. I also carried a Samsung Chromebook tablet computer as well as a Nexus 10 tablet. I have a USB power outlet wired into the bike and used that power source to run a Garmin Nuvi GPS and also keep my phone powered. I had my Samsung S4 phone in the tank bag on the trip and ran the Google mapping "my tracks" application to capture track logs for each day. The GPS is a reasonably inexpensive model I picked up at Costco and designed for automobile use. As such it lacks some of the features found on a GPS designed for motorcycle use but the cost is not a lot over $100, far more reasonable than a unit designed for motorcycles. The GPS was a huge help on the trip. I did sometimes make notes about routes and placed those under the plastic window of the tank bag but for the most part would set a waypoint on the GPS and use that if I had any questions about the route. The biggest flaw of the GPS is the power connection - a micro USB cable not really designed for the vibration of a motorcycle. And Garmin decided that a standard USB cable should switch the GPS into a "data transfer" mode such that it cannot be used for navigation. It is necessary to purchase a special cable with a resistor across two pins if you wish to power from USB while navigating. This is the biggest flaw with the unit and a stupid design decision. There is no reason why an option entered through the touch screen could not switch the unit to the data transfer mode. On the last day of the ride the GPS seemed to lose power and sometimes reset as if the power connection was intermittent. I believe either the cable or connector has failed. Some debugging is needed.
The V-Strom did fine on the highway and easily carried all my gear. The bike corners well and really seemed perfect when it came to all the twisty roads I found. The bike has a 5.3 gallon fuel capacity and gets about 50 MPG so can achieve a good distance between fuel stops. I would fill up at the end of each day so I could start the next days ride with a full tank. I used fuel stops as a good stretch break and unless on the interstate with plentiful gas stations never let the fuel get too low.
My riding gear consists of Motoport stretch Kevlar pants and a Motoport stretch Kevlar jacket. Both with full armor inserts. The combined weigh of those is fairly high but they are quite comfortable and the weight is not felt once on the bike. The company also makes a mesh Kevlar line of gear which would be better suited to the very hot weather I encountered on the trip. My jacket does have good ventilation with a back zipper across the shoulders and zippers on the inside of each elbow. I wore shorts under the pants and a very light short sleeve shirt under the jacket and found that this worked out quite well. I was also wearing gloves (again from Motoport), motorcycle boots and a full face helmet. Even with all the gear I was wearing most of the riding was comfortable. Not knowing how the weather would be for the duration of the trip I took along my rain inserts for the riding suit as well as the quilted vest insert. That added a bit of bulk to the gear I had to carry. This turned out to not be necessary though it nearly was near the end of the ride.