A mobile radio has some big advantages in a vehicle compared to a hand held radio. The main thing is that it is always there and ready to go. The other advantages are the better antenna, higher power, better sound from a large speaker, and convenience of a hand held microphone.
I have used a couple of different mobile radios in cars over the years. I presently have three vehicles ('00 Subaru Outback, '00 Jeep Cherokee, and '93 Jeep Wrangler) and have standardized on the same radios in each of the cars. This has been handy as I can program them all with a PC and know that if my wife and I are out in two cars that both radios will be set up with the same repeater set. The radio I selected was the Kenwood TM-V7. This is a dual band radio giving me both VHF and UHF. The radio gives plenty of memory channels for my needs, allows remote mounting of the control head, and is reasonably priced as far as dual band mobile radios go. The radio can also be modified for out of band operation supporting FRS and MURS channels on the UHF side. While the radio is not type accepted for FRS transmission it can be handy to monitor an FRS channel if on an off road driving trip with people using FRS and as I take two of these vehicles off road and into some pretty remote places I figure that in an emergency the more chances at raising someone on a radio the better. Once again, please note that the radio is NOT type approved for out of band use. Only in an emergency would out of band transmission be acceptable. For an off highway vehicle that does not get a lot of use a less expensive solution would be to use a small VHF only radio and mount it much as you would a CB.
As the Wrangler and Cherokee are used in off highway driving with others I have both ham and CB radios in those vehicles. The following links provide information on the radio installations in these vehicles:
Here is what the Kenwood V7A looks like: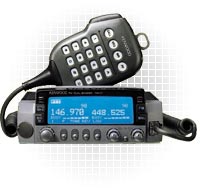 And here is what the Kenwood marketing literature says about it:
From the "cool-blue" LCD panel to the "five-in-one" programmable memory, the TM-V7A is a stand-out performer. Easy to use and install, this transceiver has features you want already included like 147 memory channel visual scan with pause, built-in CCSS Encoder/Decoder and Duplexer.
Large, reversible LCD display
Dual receive on same band (f2), in simultaneous receive on VHF and UHF bands
Up to 280 multi-function memory channels (180 channels when using Memory Name function)
Memory name function. Identify each channel with up to 7 alphanumeric characters
"Five-in-one" programmable memory (store five entire operating profiles)
Guide Function
144 MHz/440 MHz
Optional VS-3 voice synthesizer
Optional remote head kits